Campsite by the sea in Argelès 800 m from the beach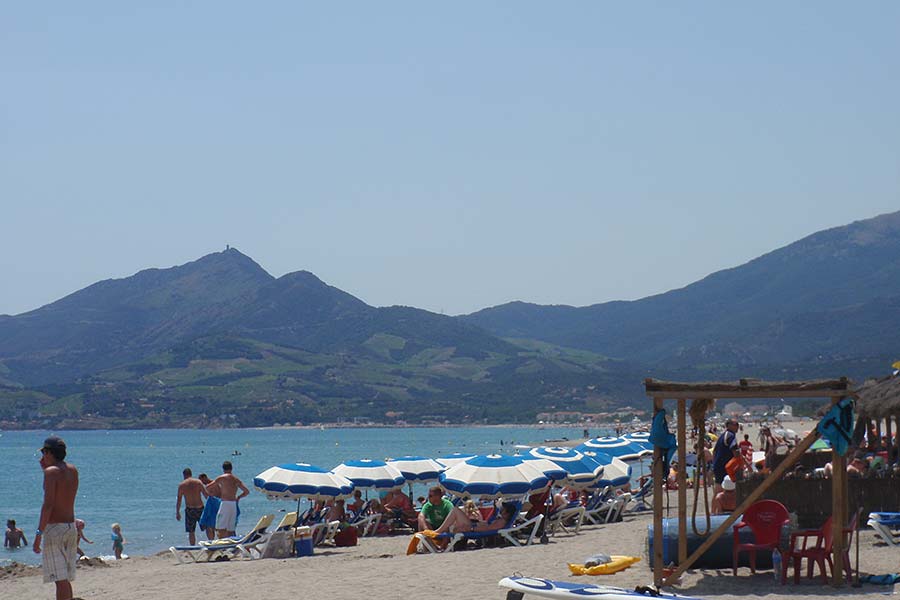 Are you looking for a campsite by the sea in Argelès-sur-Mer?

Our Les Marsouins campsite is only 800 m from the beach, so you can walk there.

Take a deep breath of fresh air during your camping holiday, enjoy relaxing on the sand beaches right next to our Les Marsouins campsite and indulge in a wide variety of outdoor activities: unforgettable holidays guaranteed!

The adventurous can also enjoy water sports such as kitesurfing and scuba diving on the beaches of Argelès.

And after a day on the road, you'll be happy to return to our mobile homes and rest at our family-friendly campsite surrounded by greenery!
The most beautiful beaches in Argelès
If you are camping in Argelès and love white sand beaches, you will have many options. All beaches have a lifeguard stand and monitored swimming areas. There are at least three beaches within easy walking distance of the campsite. So if there's one thing you shouldn't forget before leaving your mobile home, it's your swimsuit!

Take notes for your next vacation, we have all the information on the most beautiful beaches around!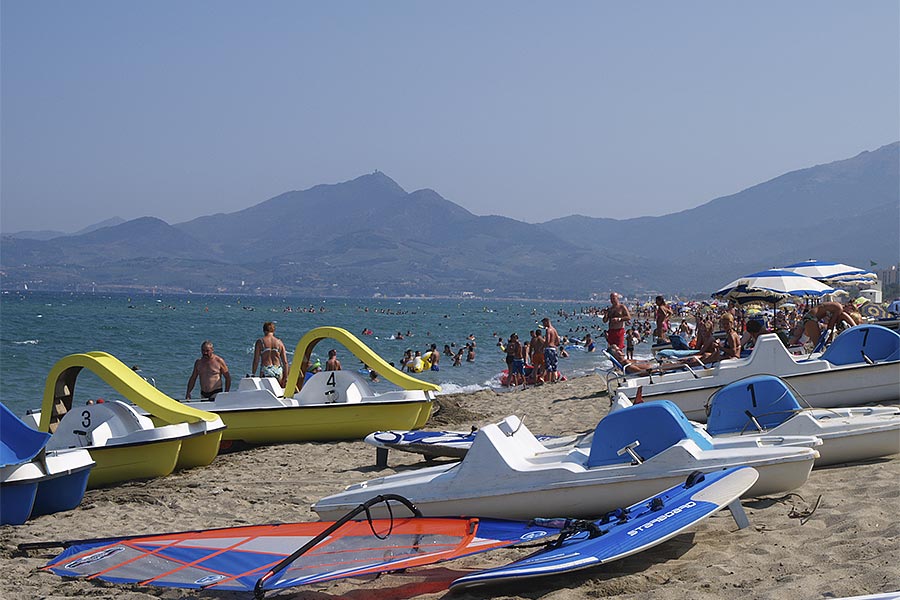 La Marenda beach, located on the north side of town, and Le Tamariguer beach are the closest beaches in Argelès-sur-Mer. Les Pins beach is located right in front of the Les Pins park, where you can stroll under the shade of the large trees and treat yourself to some shopping between swims.

Each of these beaches offers several clubs for children. Camping at Argelès beach is perfect for families!

Le Racou beach, south of Argelès-sur-Mer, is one of the most emblematic beaches on the Mediterranean coast. Nestled at the foot of the Albera foothills, Le Racou is a small, traditional village. The village of Le Racou is a preserved site, connecting the large beach to the rocky coast. The small fishing huts and sandy streets give it an exotic feel. A little "corner" (Racou means corner in Catalan) of paradise! The beach used to be covered with huts for swimmers before the first small seaside buildings were built in the 1930s. Le Racou is a small village that will transport you. With narrow sandy streets that wind between the low-standing, colorful houses, you can lose yourself in this maze suspended out of time. Try the small cafés and restaurants with simple offerings. Make sure you explore this beach in Argelès-sur-Mer during your stay in the Languedoc-Roussillon with the whole family!

The large beach of Argelès covers no less than 7 km of fine sand where you can play, relax, swim and enjoy water sports. Around a dozen sailing schools, beach clubs and water sports operators are scattered along the large beach. Six lifeguards monitor the swimming area for the safety of all. For a family holiday with children on the Mediterranean Sea, a mobile home in Argelès-sur-Mer is an excellent choice.

The coves of Porteils are a little slice of paradise. They are said to be the most beautiful in Argelès. The largest (180 m) is a magnificent little refuge of pebbles, protected by the Coast Conservancy. You can admire the sea bed while snorkeling or diving, or grab your board and surf. Follow the corniche from Le Racou and Collioure to get there.
Don't miss coastal attractions near Argelès-sur-Mer
The Banyuls-sur-mer nature reserve

Created in 1974, this was France's first marine nature reserve. It spans some 6.5 kms of coastline and 650 hectares between Banyuls and Cerbère. In its 40-year existence, it has made it possible to increase the populations of almost all typical Mediterranean species, whether flora or fauna. Don't miss the underwater trail, a fun and educational attraction to be enjoyed as a family.

The underwater trail

Beginning at Peyrefite beach, the underwater trail is a "must-see" attraction. Allow yourself to be guided by the little starfish Astrée, who talks to you through … your snorkel! She'll take you through each of the five stages along the trail, which has a total length of 500 m (round trip) to discover the underwater meadows, the faults and all the fish waiting to accompany you. You'll need to be able to swim well. Anti-exposure clothing is recommended. The trail is monitored by lifeguards during opening hours. Free admission. Equipment available for hire (afternoons only).

The Canet pool

Situated to the north of Argelès-sur-Mer, the Canet pool is home to a rare ecosystem. More than 200 migratory bird species take refuge here. With a surface area of almost 5 km2, its depth does not exceed 1 m. This protected Natura 2000 site proposes exhibitions on fishing and wildlife in the heart of a small, unique fisherman's village, where the small huts have been skilfully restored using traditional materials. What's more, the view over the Canigou is particularly impressive !